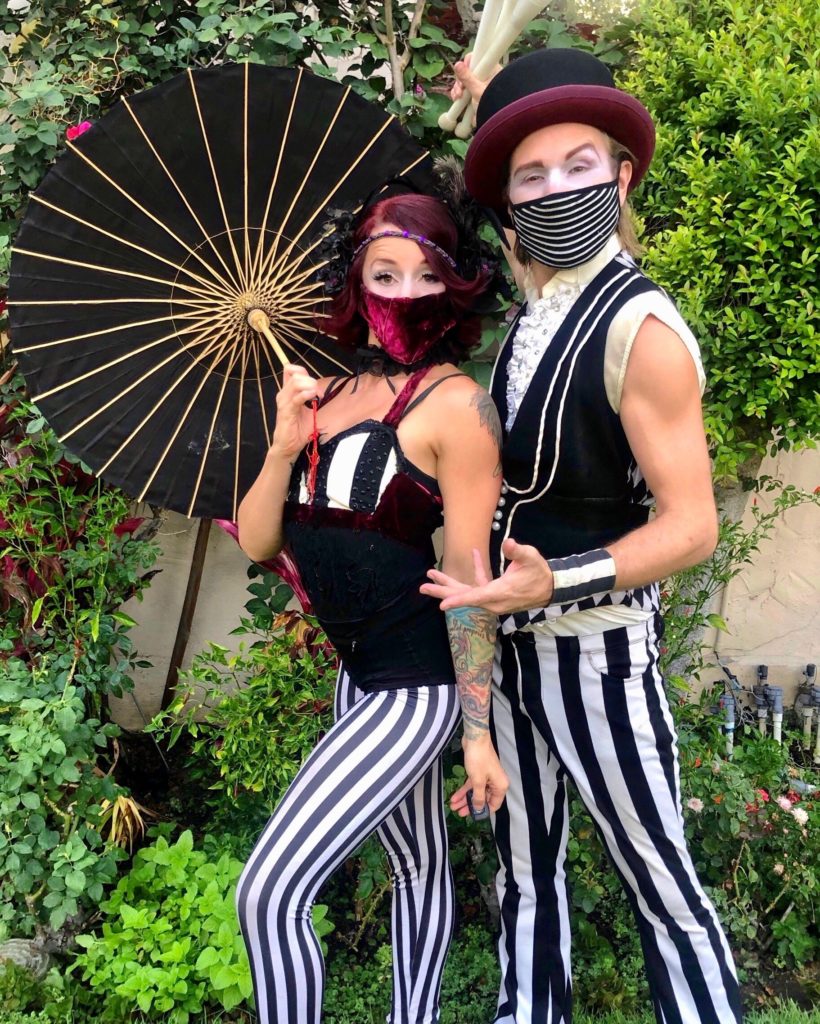 CirqueSanity's
Social Distance Entertainment

Options!
AVAILABLE NOW!!
Want to do something special in the time of Covid-19 but unsure of how to enjoy entertainment while being safe? Want to celebrate someone's birthday, wedding, children's party, etc. but need to keep it as safe as possible? Fortunately, we all do. And we are here to help bring the light and joy to your day the best we can.
We at CirqueSanity are working our best to organize

Socially Distant and Safe – Live Entertainment

where our costumed and skilled performers can entertain your small group or event from a safe distance, outdoors, in masks and following CDC health and safety guidelines. BUT all while bringing in our colorful, joyous, whimsical and fun world of Circus Arts to help brighten up your day, and put a little more light in your world.
Following CDC Health and Safety Guidelines we offer a range of conceptualized Socially Distant styled entertainment that we can curate and collaborate with you on for your special occasion!
What We Offer: 
1.) "Drive By" Roaming Performers

/ Characters:
• Where our performers will entertain you while your group slowly drive by in their vehicles. Performances will happen on the sidewalk in your neighborhood, outside your house, a nearby park or so forth while your family or friends slowly drive by in their car to watch. Maintaining a safe distance for all but thoroughly entertaining and bringing you a visual performance.  
2.) Socially Distant Ambient Entertainment:
• Background entertainment and performers for events while remaining at a proper distance from guests and crowd
3.) Stage Shows

:
• With an audience line or barrier separating the Stage and performers at a distance from the crowd but remaining in view for a theatrical show for your guests entertainment.
4.) All Socially Distant OUTDOOR Shows

:
• Fire Shows
• Aerial Shows : we provide Aerial Rig Rental options!
• Circus Shows
5.) "Drive-In" Circus and Aerial Shows

:
• Location of Drive-In show would need to be scouted, curated and determined per event request. The location will need to provide accurate, safe, permitted parking zones for all guests and staging areas.

ALL ENTERTAINMENT PROVIDED
is:
For OUTDOOR and LARGE Indoor Spaces with proper Ventilation Only

.

 Following CDC Health and Safety Guidelines this entertainment is for smaller Outdoor and In-person gatherings in which individuals remain spaced AT LEAST 6 feet apart, wear masks, and do not share objects or come in contact with others outside of their agreed upon households.
CIRQUESANITY INCLUDES

:
• our own Pop-Up "GREEN ROOM" Tent is available for all of our Performers providing an area for costume changes and physical warm ups, sanitizing station and masks without needing to spend extended periods of time in the venue/ house/ or in contact with the client and/or guests unless absolutely necessary.
ALL PERFORMERS

will provide their own costumed MASKS to be worn throughout their performances. Our masks are artistically designed to match the colors and themes of the events to continue to provide beautiful aesthetically pleasing and curated costuming.
ALL PERFORMERS

will provide their own food and refreshments to keep from unnecessary contact with those at your event.

To collaborate and discuss more details and rates please Contact Us directly!
E: [email protected]
P: (661) 526-9810